Ethical Logistics . org
trailer
A project started, but put on hold.
1: Finish and make legal trailer.
Dimensions: Mattrass 1820mm long + 66mm = 1900mm wide trailer.
Trailer: 3m x 1.9m Perimeter 25mm x 50mm High tensile box section (blue)

50mm x 50mm x 6mm Angle, cross brace on 500mm centres'
2: Build individual panels for accommodation unit.
Make floor: One skin 1/2 inch ply, epoxy glue 50mm X 25mm framing on edges and as but joints. Leave 25mm gap around perimeter for side panels.
Turn over and cover with Epoxy/Xynole.
Turn back over & fill between framing with glue & 25mm polystyrene sheets. Cover with additional 1/2 sheet plywood. Stagger joints, from bottom layer. Use glue and epoxy to attach second layer.
Build side panels: Use 3mm ply with 25mm thick framing. Full width sheets to be on top portion of panels, with narrower widths at bottom. Allow 1/2 inch of ply to stick out, past framing on bottom, to cover bottom floor sheet.
Make sure panels are built with framing for vents, and door cut outs. Place necessary cut outs in panels. Make bulkheads (same as sides, but framing right to the bottom).
Xynole = minimum 20 yards.
Assembly: 1 Floor attached to trailer.
2 Place central bulkhead (main accommodation area) and epoxy glue bottom in place.
3 Place accommodation sides. epoxy glue, to bottom and bulkhead.
4 Place rear wall. Epoxy glue to bottom and sides.
5 Place forward accommodation bulkhead. Epoxy glue to bottom and sides.
6 Place forward sides. Epoxy glue to bottom and forward accommodation bulkhead and sides.
7 Place forward bulkhead. Epoxy glue to bottom and forward sides.
8 Place roof. Must have opening in centre for lexan sheet, as skylight. Epoxy glue to top of bulkheads and sides.
9 Cover exterior with Epoxy/Xynole.
10 Construct and fit doors. Congratulations, camper is now weather proof.
11 Fit out.
Question: can Xynole be laid-out over bare wood?
Default Re: Xynole directly to wood.
I've done that , got away with it several times. Never had a problem with it, but do bear in mind that dynel takes a lot more resin than glass of a similar weight.
These days being older if not wiser I put a priming coat of resin on the wood, then lay the dynel on and wet out over that, I generally let the primer coat tack off very slightly to reduce runs or puddling under the cloth,
John Welsford
Basic interior layout for main area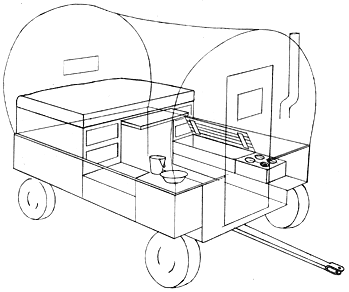 Thursday 2nd November 2017:
Bought wheels and spring set for trailer. Gene has stub axles and hubs; still need to get trailer lights.
Tuesday December 26th 2017:
Have lights. Studs have been fitted to hubs; still needs to replace bearing sets.
Sunday December 31st 2017:
Have new bearing set. Ready for chop and welding.
Tuesday January 2nd 2018:
Put Macrocarpa through the thicknesser, to 25mm, for framing material.
Saturday January 5 2019:
Ordered 30 Yards of Xynole from Duckworks.
---
Backlinks:
Nomadic Homes
If you would like to get in touch, I can be reached at